Age: 5 | Gender: M
Like changed for our family when Peter was diagnosed with Leukemia the past June.
View full details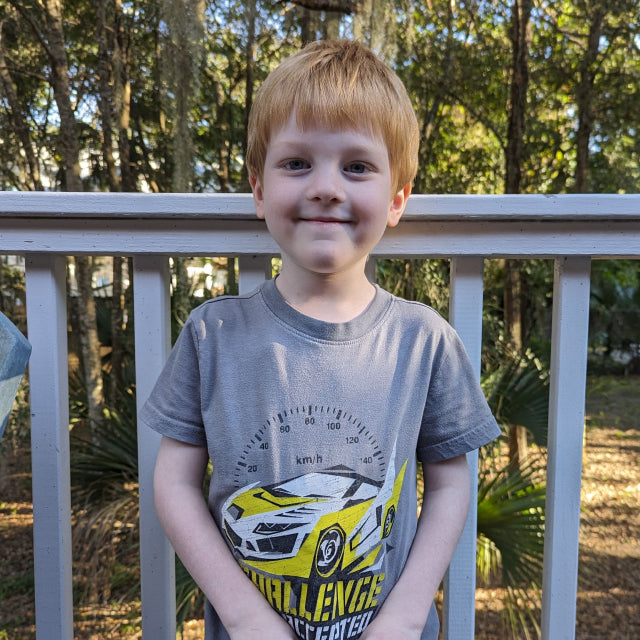 Collapsible content
Peter's Story

Since Peter was diagnosed with B cell Acute Lymphoblastic Leukemia in October of 2022, this has been the most difficult, stressful and exhausting year we have ever faced as a family. The first 10 months of Peter's treatment was extremely intense on him and on our whole family. There were countless hospital admissions, hospital clinic visits, and chemotherapy infusions.
Watching our son go through agonizing treatments and dealing with all the side effects and complications was absolutely heartbreaking. My husband and I would have to constantly figure out how to be split between living at the hospital with Peter and staying home to care for our oldest 3 children (Natalie age 12, William age 11 and Gabriel age 8). We live an hour away from the hospital, so the time and gas expenses added up so quickly. I had to miss countless days of work and my husband had to take FMLA leave in order to help care for our children. Between the missed work and added expenses we have struggled significantly financially this year. Our oldest 3 children have also suffered so much watching and worrying about their baby brother.
We did our best to keep our spirits up throughout this year but there were so many sad and scary times. Natalie, William and Gabriel have also missed out on so many things healthy kids can do. Peter has been completely immunocompromised we couldn't risk exposing him to all the possible germs. The constant in and out of the hospital, the awful side effects of chemotherapy and missing out on the typical life of a 5 year old has been so hard on our sweet Peter.
We all rejoice in the good days and hold onto hope during the dark times. We are hopeful that Peter has finished with the worst of his treatment and things will be a little easier on him next year but sadly nothing is guaranteed when battling cancer. With everything our family has gone through this year, knowing that we don't have to figure out how to financially afford Christmas gifts and don't have to find the time to go Christmas shopping is the most incredible blessing we could imagine.
Peter's Hobbies & Interests

Peter loves to read, play with toys and games.
Peter's Wishlist

https://www.amazon.com/hz/wishlist/ls/354W71G24VD4R?ref=cm_sw_em_r_un_un_YVUHqBy6RS0dR - Shirt Size: Youth Small (4-6) - Pant Size: 5T - Shoe Size: 11 kids
Step 1. Select a Child

Choose a child to sponsor from our list of deserving kids.

Step 2. Purchase Items

Start shopping! Purchase the items from their wishlist.

Step 3. Bring Your Gifts

Join the fun — bring your gifts to our wrapping party.
Make a Donation
You don't have to sponsor a child to help make a difference — make a donation instead to contribute to bringing holiday cheer to a deserving family. 100% of all donation go directly to a family in need.