Age: 13 | Gender: M
Matthew is Jeremiah's younger brother. Matthew is 13 years old and enjoys video games, camping and hunting.
View full details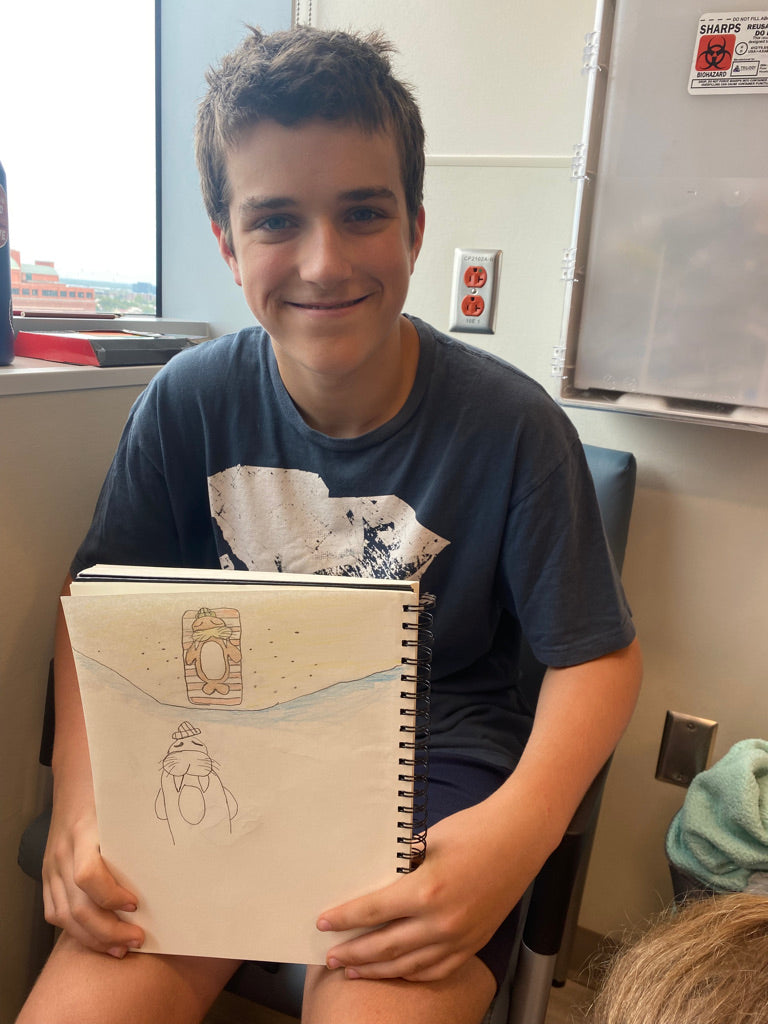 Collapsible content
Matthew's Story

The last six months have been a whirlwind. In the middle of April 2023 Jeremiah was seeing a small spot in his eye. We made an appointment with an eye doctor who took one look in his eye and told us to go straight to Emergency Room, Jeremiah had hemorrhaging in both eyes! Jeremiah was diagnosed with MPAL Leukemia. He spent the next thirty days in the hospital missing the last month of his freshman year.
Thankfully we live only about thirty minutes from the hospital, so his siblings were able to come visit. We had excellent care at MUSC and Jeremiah made friends with the nurses and doctors often sharing puns, dad jokes, and drawings. It was a very different summer for us. Jeremiah had to be at the hospital for treatment 3 to 4 times a week and because his dad travels for work his siblings were there with us at most of those appointments as well. He had a pic line so no water activities which seeing how we are in SC we usually spend most of the summer at the pool or beach trying to beat the heat. He says the first thing he is going to do when he gets his line out is swim! He did have a few days this summer where his platelets were high enough and he was extremely excited to be able to ride his bike!
Beginning of September Jeremiah checked into the hospital again where he underwent full body radiation. He finally lost all of his hair which was emotionally hard for him and something he had been dreading sense diagnosis. He ended up with severe sores in his mouth and was unable to eat so had to be put on a feeding tube. He had a bone marrow transplant on September 13. We spent seven and a half weeks in the hospital including several days in the PICU. It was extremely difficult to be separated from our family for so long but we were able to come home a few days ago! He was so excited to be all together and to see our dog! One of the first things he wanted to do was roast hotdogs on the fire pit. He loves to cook so is also very excited to be able to make his own breakfast sandwiches and omelets. He really missed fried eggs while at the hospital the boxed scrambled eggs are just not the same, ha ha. He is still on IV fluids so I, mom, had to learn how to give antibiotics and fluids through IV.
He still has a long road ahead of him but we are so thankful for all the progress that he has made. He will see his team twice a week so that they can monitor his blood levels and make any needed adjustments to his medicine. We are not allowed to travel more than 30 minutes from the hospital for 100 days, thankfully our home is close enough, so we are able to sleep in our own bed! However, this does mean that we will be switching things up a bit this fall we can't go to grandparent's house for Thanksgiving, no camping at lake Jocassee this fall, but will be looking for some local ways to spend time as a family.

His immune system is still very low and he won't be able to attend school, youth group, or any large group activities for a year. His siblings also have to be extremely careful to not be around people who are sick sometimes missing out on fun activities because of it. All three kids have had just an amazing attitude through the whole ordeal. It is hard to watch children have to deal with things that even adults don't understand or handle well. Thank you for helping my family this Christmas, it means so much to us
Matthew's Hobbies & Interests

- Legos
- Drawing
- Archery
- Hiking/Camping
- Hunting
- Video, board, and card games
- Playing Basketball
- Making stop motion videos

Matthew's Wishlist

- Splatrball gun - Modern Warfare 3 (Xbox1) - Xbox series x controller (green if available) - Baofang two-way radio walkie talkie - Penguin or turtle items: shirt, sweat shirt, - squishmallow, phone popsocket etc. - Shirt Size - Men's Large - Pant Size - 32x32 - Shoe Size - 11
The Bean Family
Regular price

Sale price

$0.00

Unit price

per

Regular price

Sale price

$0.00

Unit price

per

Regular price

Sale price

$0.00

Unit price

per
Step 1. Select a Child

Choose a child to sponsor from our list of deserving kids.

Step 2. Purchase Items

Start shopping! Purchase the items from their wishlist.

Step 3. Bring Your Gifts

Join the fun — bring your gifts to our wrapping party.
Make a Donation
You don't have to sponsor a child to help make a difference — make a donation instead to contribute to bringing holiday cheer to a deserving family. 100% of all donation go directly to a family in need.