Age: 1 | Gender: F
My 22 month old daughter was diagnosed with AML Leukemia on May 16th, 2023
View full details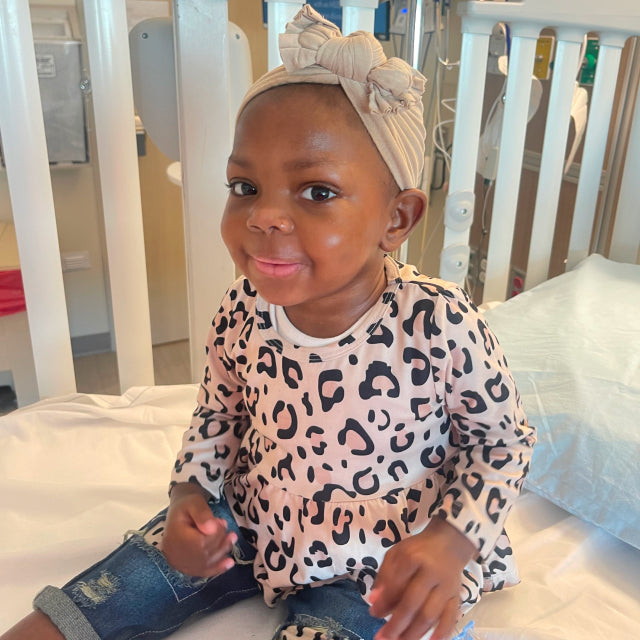 Collapsible content
Desstinn's Story

My name is Amoree Brown. My 22 month old daughter was diagnosed with AML Leukemia on May 16th, 2023. She is currently inpatient at MUSC Shawn Jenkins Children's Hospital in Charleston SC. She has been inpatient since her diagnosis in May. Just 3 days after her diagnosis she experienced internal bleeding from the lung and had a cardiac arrest. Desstinn spend 38 days on life support. She was also in an induced coma and an induced paralysis. Desstinn stayed in the PICU for almost 4 months and has returned to PICU more than once due to infections. Desstinn has completed 4 rounds of chemotherapy. Our hope is to get the level of leukemia in her body to less than 2% so she can undergo a bone marrow transplant. We have not been able to so far but we have hope. Through everything Desstinn has been a trooper and a fighter. She is always happy, smiling and dancing. She is not letting the cancer get her down. Although we were not prepared for this journey, we are on it and we will never give up. We as a family rely on our faith to get us through. We are by Desstinn's side at all times. Dad is no longer working so that combined with the extra financial responsibilities that have arisen from Desstinn's leukemia diagnosis have put a huge strain on our finances which in turn has put a big strain on us emotionally. Thank you for helping Desstinn have a happy Christmas.
Desstinn's Hobbies & Interests

singing, dancing and watching Gracie's Corner on TV
Desstinn's Wishlist

- Bobike 12v kids ride on car with 2.4g remote control (red Mercedes car).   - My first book of bible stories- children's padded board book.   - Minnie bow-tique why hello pretend play cell phone.   - Disneys the little mermaid aerial doll with hair charms. - move 2 play kids star karaoke microphone.   - princess dress up toys and jewelry boutique.   - Disney Minnie Mouse pretend play rotary phone.   - Play kids princess my first purse.   - Batatt classic barn play set. - Shirt Size: 3T - Pant Size: 3T - Shoe Size: 7 Child
Step 1. Select a Child

Choose a child to sponsor from our list of deserving kids.

Step 2. Purchase Items

Start shopping! Purchase the items from their wishlist.

Step 3. Bring Your Gifts

Join the fun — bring your gifts to our wrapping party.
Make a Donation
You don't have to sponsor a child to help make a difference — make a donation instead to contribute to bringing holiday cheer to a deserving family. 100% of all donation go directly to a family in need.