Age: 15 | Gender: F
Amya is Ashanti's older sister but only by 1 year.
View full details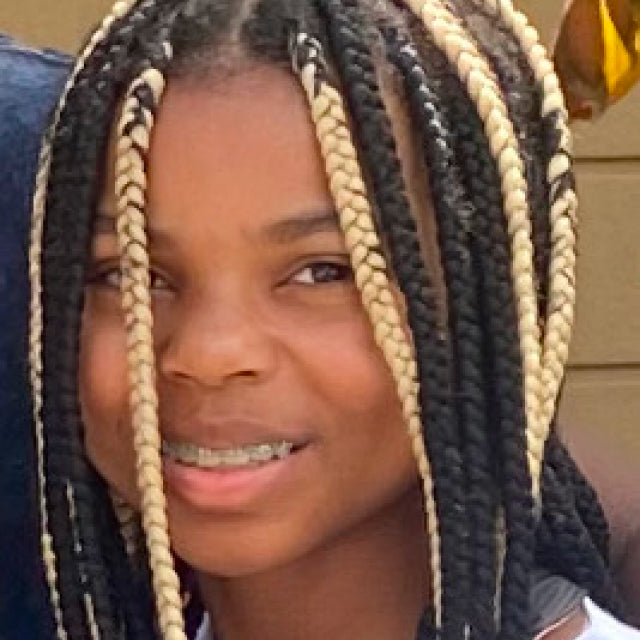 Collapsible content
Amya's Story

This June Ashanti was diagnosed with Stage 2 Hodgkin's lymphoma. There was the initial shock of course, a few months prior we were at Universal Studios having the time of our lives, so you can imagine what it must feel like to find out something like that almost immediately afterwards. We waited for about two weeks before we got the results of the biopsy back, and there was really no time to prepare for the worst because we didn't think that there would be one. The focus was helping Ashanti recover from the biopsy itself at the time. But when we got the results back, they were positive, and there was nothing left to do but accept it. From the first moment, we came together as a family to comfort her and there were no tears, just strategies. Ok, we know what it is so what's the next challenge? There has never been a doubt in our mind about her getting better, and just as she was before the cancer, she has stayed strong throughout the entire ordeal. Many people may say this about a member of their family who has had the same experience, but Ashanti is truly the heart of our family. In our family of seven, she is our peacemaker, the diplomat between siblings and the one who brings kindness to the table when no one else can or even is willing to. So, you better believe that we have remained a stronghold for her as much as she has for us.

A little bit about Ashanti? She wants to be a cosmetologist when she grows up, in the house with five girls, she's always doing hair. She loves fashion, K-pop, dancing with her sisters, and lame jokes. Cancer has tried to steal these things from her, but she hasn't let it, she remains the same in character, and oftentimes opts to be treated the same in everyday life and common tasks. Our family would like to extend a grievous thank you for all the care that has been expressed for her during this time, and it will not be forgotten.
Amya's Hobbies & Interests

Loves music and stuffed animals.
The Hopkins Family
Regular price

Sale price

$0.00

Unit price

per

Regular price

Sale price

$0.00

Unit price

per

Regular price

Sale price

$0.00

Unit price

per
Step 1. Select a Child

Choose a child to sponsor from our list of deserving kids.

Step 2. Purchase Items

Start shopping! Purchase the items from their wishlist.

Step 3. Bring Your Gifts

Join the fun — bring your gifts to our wrapping party.
Make a Donation
You don't have to sponsor a child to help make a difference — make a donation instead to contribute to bringing holiday cheer to a deserving family. 100% of all donation go directly to a family in need.