Age: 4 | Gender: M
Jace is a BUNDLE of energy! He loves school, running around outside. Jace is one of Ellie's older brothers, but not by much.
View full details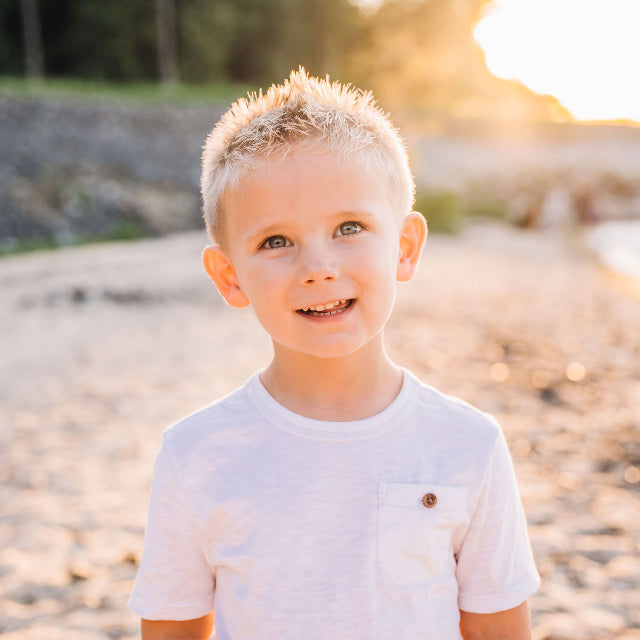 Collapsible content
Jace's Story

We are so appreciative of your giving spirit and love during what has been an extremely tumultuous year for our family. Our youngest daughter, Ellie was diagnosed with Acute Myeloid Leukemia (AML) in January 2022. Our world turned completely upside down that day. There isn't a thing in the world that can prepare a mama to hear the word "cancer" to explain the sudden lethargy, fevers, rashes and swelling in their 19 month old baby; but that was in fact the reason behind it all.

Her line was placed the next day and chemotherapy began. It was an extremely difficult 7 months. All of her treatment occurred in the hospital. She was hospitalized anywhere from 26-40 days during each of her 5 chemotherapy cycles. She was allowed to come home anywhere from 3-7 days before her next round started again. She was given 79 bags of chemo and 52 blood product infusions. She endured many difficulties during her treatment including- fungal infections, bacterial infections, viral infections, need for a feeding tube, feeding tubes needing to be replaced, sleepless nights … just to name a few. I could never put into words some of the things we've seen while living on the 10th floor. We will all be forever changed.
While seeing our daughter be incredibly sick was devastating, the absolute strain it put on our family to be apart was unbearable. Ellie is the youngest of 5 children. She has two older sisters and two older brothers: Harper (8), Olivia (7), Benjamin (6), Jace (4). As a stay at home mom, my job was to keep things running smoothly at the house and care for our children.

My husband had to work, so the setup we arranged was for me to stay in the hospital M-F and for him to take over during the weekends. He would also come up on Wednesdays when possible so that we would be able to see each other some. It was EXTREMELY difficult to sit in the hospital, alone and know that life was still happening all around us and that while I knew our children were being taken care of; I often didn't know where they were at any given moment. We were beyond blessed by friends and family to fill in where I couldn't. I tried my best to be there for things going on with them, but missed SO much. I missed so many play dates, performances, awards, etc. It was so hard. I was grateful to be caring for our baby because she needed me and I needed to know she was OK. Even during the weekends, our family was fractured. We could feel the absence of Dad and Ellie, and it was just hard. During our darkest times, we couldn't see being where we are now.

Today—Ellie is 3 months off treatment and still in remission! We get to be together again as a family and are so incredibly grateful. We look at life through a different lens and truly try to treasure and appreciate our time together because we know life is a gift. It is a gift that has no promise of tomorrow. We missed out on a lot of precious time together, and realize now more than ever just how precious that time is. We feel God allowed us to see what little value "things'' possess. Shared experiences are the focus of our wish list this year. We would LOVE to have the ability to quickly jump in the car and enjoy an outing without having to make sure there's enough in the budget to cover it. We have been SO blessed during this journey, by God and others being the hands and feet of Jesus. At the same time, there's no denying that this has put some financial strain which is why we have to carefully weigh things like whether or not family outings are wise during certain months. We do have a Charleston Parks/water park pass, but no other family passes of any kind currently.

We cannot thank you enough for your generosity and for listening to Ellie's story. She is a true inspiration to everyone she meets and we couldn't be more proud of her.
Jace's Hobbies & Interests

Jace is a BUNDLE of energy! He loves school, running around outside. He also really likes Paw Patrol and Sonic the Hedgehog. Because Jace is FULL of energy, he REALLY enjoys going to Trampoline Parks (Summit in West Ashley OR Flight Adventure Park in N. Charleston). A gift card here would be SO appreciated

Jace's Wishlist

Anything Paw Patrol and Sonic the Hedgehog. Loves Trampoline Parks (Summit in West Ashley OR Flight Adventure Park in N. Charleston). A gift card here would be SO appreciated! - Shirt Size: 4 - Pant Size: 4/5 - Shoe Size: 11 Child
Step 1. Select a Child

Choose a child to sponsor from our list of deserving kids.

Step 2. Purchase Items

Start shopping! Purchase the items from their wishlist.

Step 3. Bring Your Gifts

Join the fun — bring your gifts to our wrapping party.
Make a Donation
You don't have to sponsor a child to help make a difference — make a donation instead to contribute to bringing holiday cheer to a deserving family. 100% of all donation go directly to a family in need.